This Amazon best-seller is now an award winner!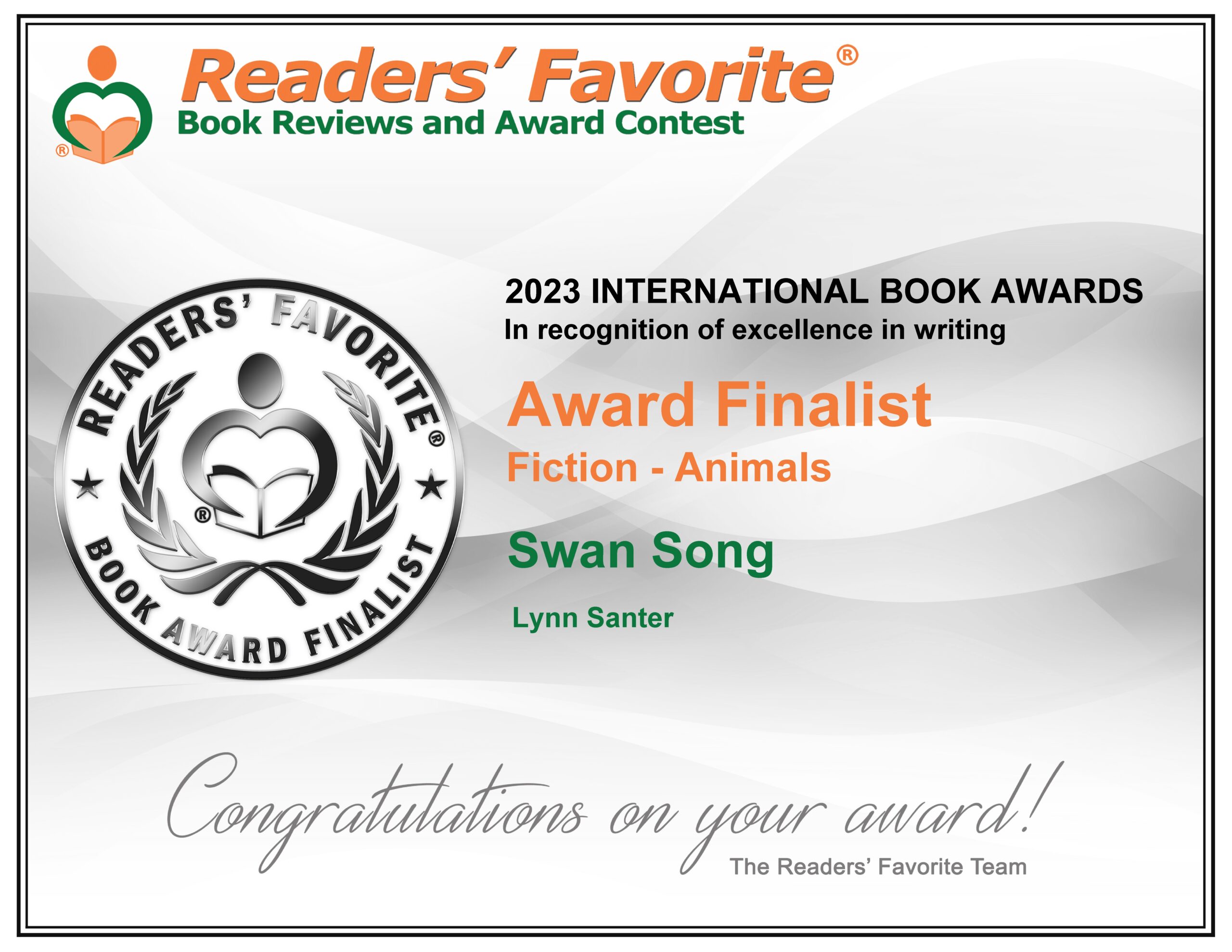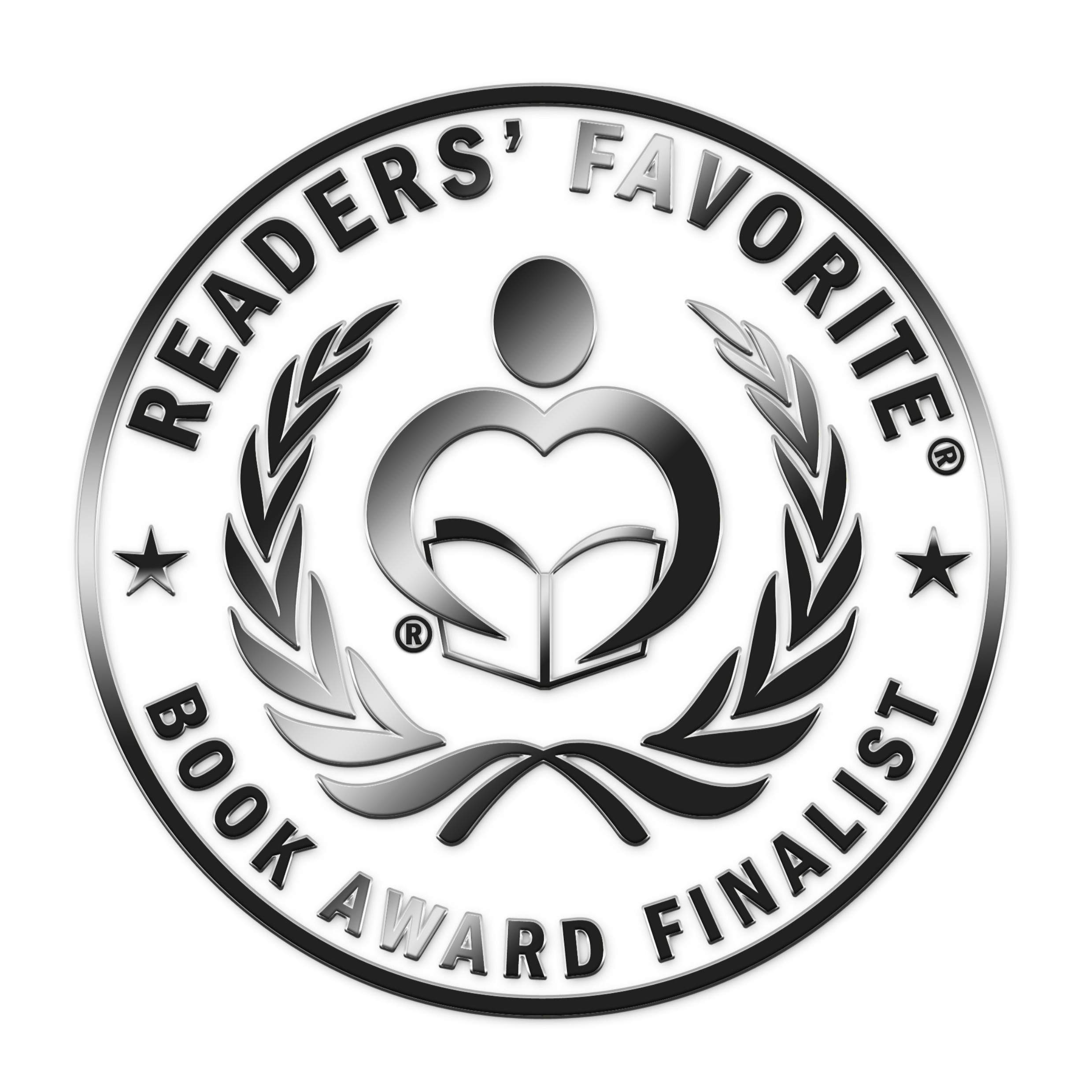 Available in Kindle and Hardback formats.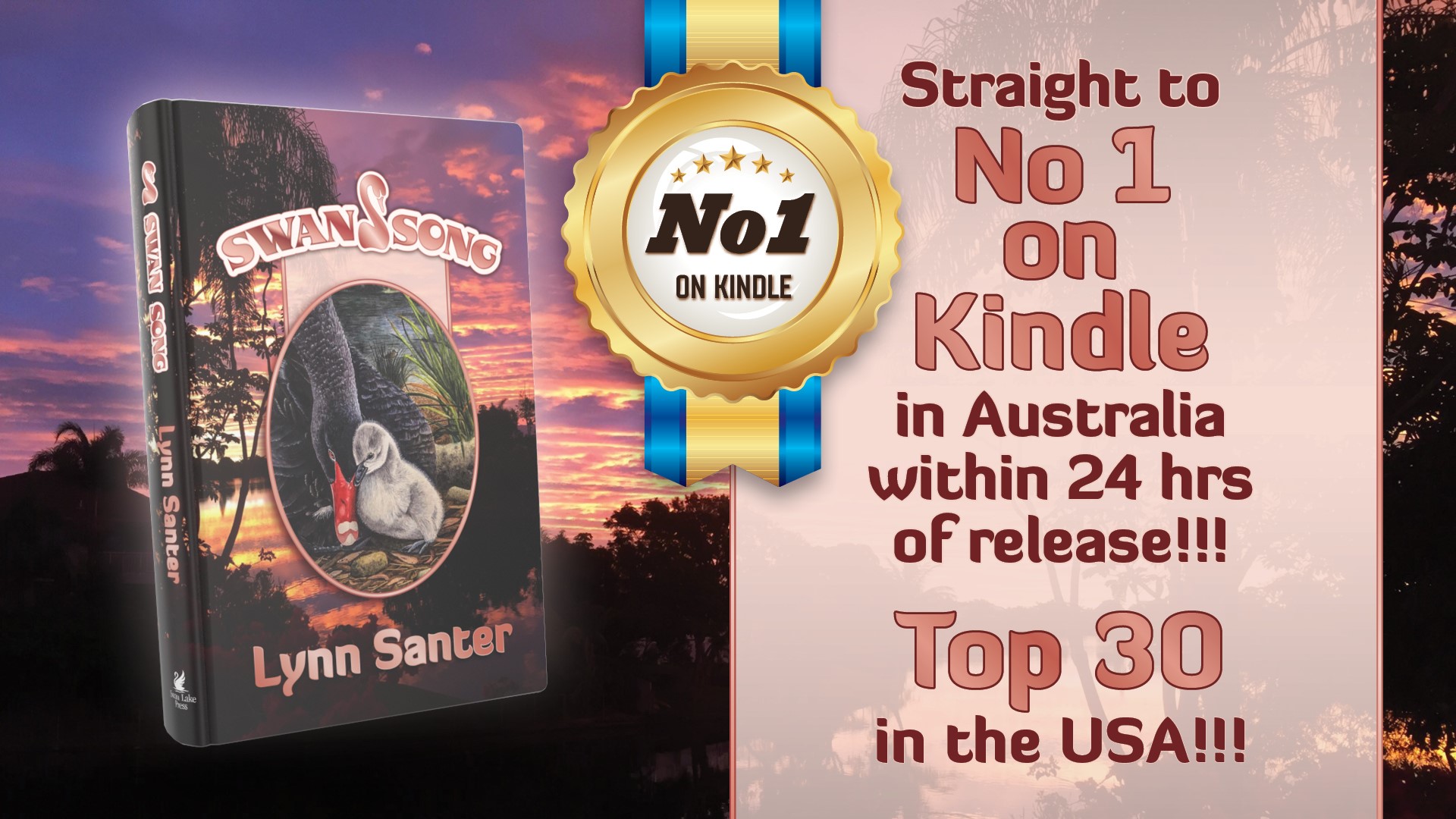 Apple  iBook users can now access the book too!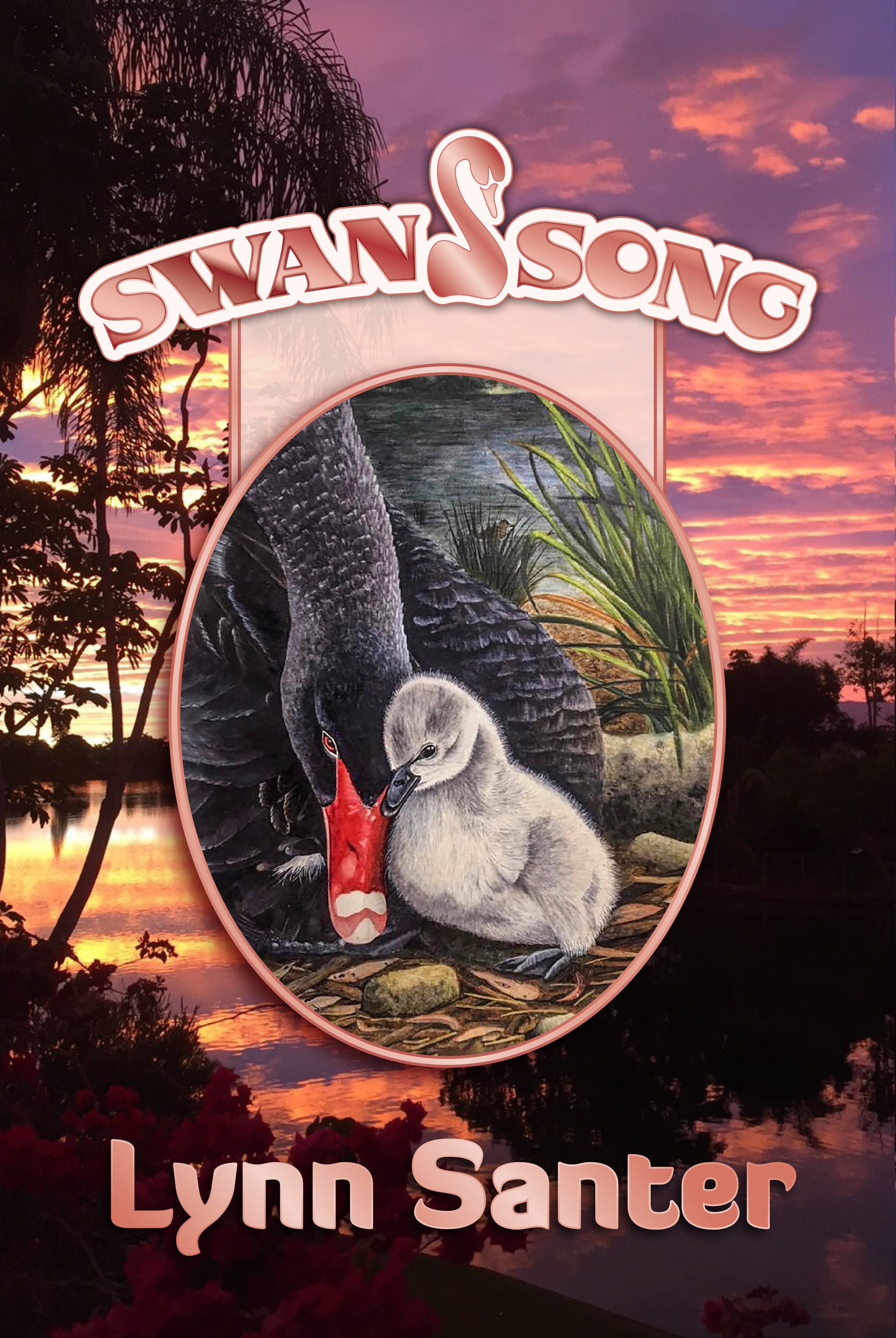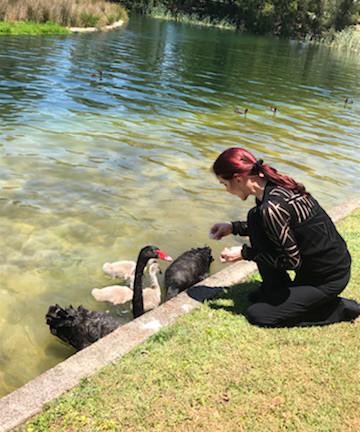 Priscilla Presley
I never doubted for a moment that you would get rave reviews for your heartfelt, beautiful story in Swan Song. Congratulations Lynn. I'm thrilled that this dream to share your experience with your swan family has come to fruition. I can't wait for this book to be released for all to read your unlikely experience with your beloved swans. This should be a movie.
Warmly,
Priscilla 🌹
Kirstine Lumb-McKay
Another beautiful story told by the talented Lynn Santer. The magic of this story is in the intimate knowledge of swans Lynn brings to the narrative through her extraordinary connection to them and all creatures. Lynn is a magnet to wildlife who I am sure can sense that she is their passionate guardian. This 'Lady of the Lake' allows us a glimpse into a world that she has observed from her waterfront property over many years and then allows our imaginations to take flight into this dramatic tale. This celebration of the animal world is a delight to read.
Hugh and Serena have reigned over a vast lake in a subtropical paradise for many years.
Although the environment is idyllic it belies a slimy danger that lurks below the water – predatory eels.
The colorful bunch of characters who live on the lake are all grateful to Hugh for protecting them from the evil of the deep, which impresses Hugh and Serena's daughter, Isis. As their latest hatched cygnet, Isis assumes she is the last born and therefore heir to the kingdom, as is the swan way of things. A cheeky white duck who has lived on the lake as long as Hugh and Serena, Lord Quacksalot, knows better.
When the ambitious young swan becomes airborne for the first time, she is thrilled with her newfound power, not realizing the bittersweet consequence. Isis is crestfallen when told she has to leave, despite her parents sweetening the blow by telling her that she will become queen of a new territory. Reluctantly she leaves but vows revenge.
While Isis is away, Hugh and Serena give birth to Prince, their heir apparent. When Isis returns with the evil swan Hannibal, Hugh is too old and Prince is too young to challenge such an enormous and strong swan. The serenity and sanctuary of the lake are shattered and the kingdom is devastated when beloved lives are lost. It doesn't take long for Isis to realize she's made a terrible mistake. It will take all Serena's years of experience, all of her guile, and all the animals of the kingdom working together if Isis is to be redeemed, Hannibal defeated and the sanctity of the lake restored for all the creatures who live there.
"Charming. Enchanting. Full of passion, humor and drama."
Priscilla Presley
"Every captivating chapter opens your eyes to love, treachery, sacrifice and self-discovery in the secret world of swans."
Richard Loring, Creator of the international stage sensation "African Footprint"
"Heart-stopping drama, rib-tickling humor, and more personality than should be allowed."  
Harvey Brownstone, celebrity talk show host.
Swan Song
By Lynn Santer
Published by Swan Lake Press
© Story Telling Magic, 2022, All Rights Reserved.
For film enquiries contact ARNOLD RUDNICK: Arnold@paraphrasellc.com
Set on the Gold Coast of Australia.
Based on (mostly) real events.
Adapted from the unproduced animated musical feature film treatment Swan Song – Executive Producer, Priscilla Presley.
Original songs by the Mzansi Youth Choir of Soweto.
Written in US spelling.
YA novel – approx 50,000 words.
Book Review by Pikasho Deka for Readers' Favorite
Swan Song is a young adult adventure novel featuring animals as central characters by award-winning film producer and bestselling author Lynn Santer. Inspired by the swans and other animals living on Santer's subtropical property on Australia's Gold Coast, the book follows the animals on the fictional Hen Swamp Island, where Queen Swan Serena and her beloved King Hugh reside. Serena and Hugh rule over a peaceful kingdom, but trouble arises when their daughter, Isis, moved by revenge, brings back the tyrant Hannibal as her mate to challenge Hugh. After a draining battle, Hugh loses his life and kingdom to Hannibal, whose atrocities force Serena and her newborn Prince to flee and the other animals to rise in revolt. Will the white duck Lord Quacksalot find Serena and the Prince in time? Can Isis find her redemption?
Some real-world parallels in Lynn Santer's story shed light on the issue of immigrants and the problems they face while acclimating to their new environments. Swan Song, at its heart, is a coming-of-age story about two sibling heirs to the Swan kingdom who choose two very different paths to react to life's challenges. Lynn Santer draws inspiration from watching the swans on her own property to weave a fascinating tale of love, sacrifice, and redemption. There are some delightful shoutouts to movies and other pop culture references sprinkled throughout the book, which adds another fun engagement factor to the narrative. Animal lovers will find the book particularly heartwarming as Santer captures animal behavior and social interactions flawlessly on the page. Highly recommended.
Loved it!

😍 A delightful and poignant look at a lake, the creatures who live there, and the swans who rule.

Swan Song opens on an idyllic lake, where most of the creatures live in harmony. Ruling them are the swans, Hugh and Serena, beloved by the other animals. When it is time for their daughter, Isis, to leave the nest and find her own kingdom, she is furious and vows to return to reclaim her birthright. Tragedy soon follows, and Serena is forced to flee, with her youngest Swan, Prince, in tow, until he is old enough to reclaim his rightful place.
This is a delightful novel that focuses on one small place and the creatures who live there. The characters come alive in Swan Song, allowing the reader to become invested in them and their struggles. Readers will laugh, cry, and find themselves thoroughly enjoying spending time with Serena and the other birds of the kingdom.
Slice of life animal stories can feel trite and half-baked, and that is not a problem for this novel! The reader is allowed to care about this pond, small as it is in the grand scheme of things, and feel invested in the story. The stakes are high for this kingdom, and the reader feels that.

(Continued on the next slide…)
Every bird has a unique personality, and they are clearly based on real birds that the author observed in her own pond. This helps make the story come alive in an even brighter way, and ensures that each character is memorable.
The writing is lyrical and beautiful, painting a picture of this idyllic lake. The novel calls to mind Firebringer, Bambi, and The Lion King, but has a unique flavor all its own. It made this reader laugh, cry, cheer, and feel like she was a part of something grand in this one small kingdom. Swan Song will become a classic animal story, and is certainly one to check out!
Bailey Cavender
I worked as a book and film reviewer for The Silver Petticoat Review before they changed their setup. My focus was mainly on period dramas, classics, historical fiction, chick lit, and YA fantasy. I have since added science fiction, horror, poetry, and some contemporary romance to my genre list.
Exquisitely written, Swan Song is full of beauty, charm, humor and soul, which will keep you captivated with the turn of each page.
Dominique Mayfair
A really good book. I enjoyed it. Written from a really interesting perspective that gives you an insight into the way of life for swans. So funny! I recommend to people who love nature and want to learn more about the creatures who we share this planet with.
Tomas (11) 
Amazing read that takes you to the world of beautiful swans and their lives.
You won't be able to put it down until you finish the book.
My granddaughter of 7 took one look at the cover and has demanded that she reads it next… and immediately!!
Zoe Smith 
I thoroughly recommend reading this book. It's capturing from the moment you start reading it, to its final chapter.
 Pushpa Vaghela
Oh my goodness! As soon as I started reading about this little community I couldn't put the book down! The characters are so amazing! Lynn has done an incredible job of narrating the real life saga of what is happening in her very own back yard in Queensland, Australia! The book will warm the hearts of all ages. I absolutely loved it. Thanks for another really brilliantly written book Lynn.
 Dot Gilbert 
Lynn Santer's Swan Song captured my imagination almost instantly. In just a few pages I became immersed in the 'Swamp Hen Island society' and each creature, from the regal swans, the noisy 'outspoken' ducks to the eager turtles and opportunistic eels, were characters I felt I already knew … and I feel still live on … which in fact they do  –  photos of the Swamp Hen Island birds, which inspired the characters, will appear in the book. Although categorised as a 'young adults' story, I found that tears burned my eyes at some of the touching moments and I look forward to reading this charming story to our young grandchildren who will be just as captivated.
Jeanette Loring
I love the new book of Lynn Santer!!
The story is wonderful written!! Great!!
Definitely a book you must read!!
The people will love it!!
Definitely 5 stars!!
Kristina Friederike Bell
A riveting plot with compelling themes. Lynn Santer has written an enjoyable, insightful story for adolescents, young adults and animal lovers, that stayed with me long after the last page was read. It's fascinating that the story was inspired by real events. There are so many important themes and life lessons in this wonderful book. I applaud the author for giving us all a bird's eye view (pun intended) into the world of swans.
Supermoviefan
A remarkable story based on real events… Books that personify animals often don't work, but this one does. The characters are beautifully devised, the settings described so well, a reader gets drawn in to the story. It doesn't shy away from difficult issues, but approaches them head on. Where there is death, you feel sorrow. Where there is humour, you laugh. I loved reading about these wonderful creatures from my own land – Australia. Thank you, Lynn, for an excellent read.
Frederika Sanchez
It's a brilliant story! The story is beautifully written and the characters all shine on their own. It's dramatic, it's romantic with a touch of comedy to balance the dark shades of tragedy with the light. Everyone should read this book. And no doubt they will love it. Perhaps one of the best Young Adult fiction out there. An enjoyable read.
FarrahK
Fantastic! A classic in the making! Absolutely beautifully written book with wonderful characters – that come to life in a very Walt Disney kind of way. A classic in the making! Congratulations!
Lawrence Korman
A marvelous work. Brings the wonders and dramas of nature to life.
Nir Gurevitch
I read your book, Swan Song, and LOVED it. The wisdom of Serena (Lynn Santer) was very inspiring. I will treasure the teachings of the swan way of things and rules. Be smarter not stronger. 
Loved all the characters, felt like I knew them… who did we met when we visited you in Australia?  I wish you the best of success with the book, I could not stop reading it.
My best,
Vikki Hakkinen
(PA to Priscilla Presley)
NOTE: Priscilla and Vikki met and fed Serena, Hugh, Prince, Lord Quacksalot, Precious and Blondie in November 2017… before Hannibal arrived in January 2018.
A wonderful story about Swans and other characters you find living in the lake kingdom. Lynn has captured this magical world in a way she knows how. You get to know the characters of the lake. It has everything you could possibly want in a story, allowing you to go on a journey with the characters – from start to finish.

I laughed. At times I thought, 'oh no!' And then… I cried. The ending definitely leaves you with something to think about, how you see life. It gives the reader a perspective of their own. I always love stories that do this. That have a sentimental meaning.

My favourite character is Lord Quacksalot, I love his sense of humour!

I love being able to sit and hold a book in my hand. That being said, Swan Song is a book EVERYONE should read.
NardKo
Lynn Santer offers a wonderful adventure that comes alive through heartwarming characters, revealing the captivating, secret workd of black swans with just enough parable to make this a wonderful book for all readers.
Kat
What a beautifully written story as told by Lynn. This story has it all, romance, drama, and a storyline that had me hooked from the very start. If you want a great book to read look no further, Lynn Santer is one impressive story teller.
Toby Dow
L, wonderful job on the book.  It has great imagination and a very easy nice read.  It could make a very good animation film.  It would need a very strong producer to bring this about would be my guess.  Best of luck with the sales and I trust it reaches its full potential.  All the best Sandy
Sandy Bresler – agent for Jack Nicholson since 1964
This lovely book is one for the shelf where you keep Wind in the Willows, The Wolves of Time, Watership Down and the Duncton Tales. Lynn Santer really captures the spirit of the lake, its nature and its inhabitants. And of course their adventures.
Stories with animals as main characters are notoriously challenging. Be it movies, literature or plays. Far too often it ends up being just people called 'bug' or 'rabbit' doing human stuff. Simply lacking the animal behaviour which takes out all the wonder.
Not so here. Lynn Santer very effectively embeds the general species behaviour of each character into the story line. But she adds all these little idiosynchrasies of every individual. The reader really experiences them as individuals.
I think part of the brilliance of this book is that the Kingdom really exists.
Here's a secret, Lynn lives nearby the Kingdom. She's actually one of the giants herself.
But don't tell anyone. It's a secret.
Koen Vanhoutte (Aquatic Biologist), Germany
An enchanting tale replete with life lessons.
Inheritance disputes and power struggles have been a thing since the days of Cain and Abel. They bring out the best and the worst of human nature, so it is no surprise Shakespeare wrote about them. My favourite is King Lear. Since then, countless novels have been written about family disputes, the most famous about the squabbling brothers Karazamov.
And that is what makes this delightful novel, Swan Song, so original and relatable. Relatable because inheritance issues are a part of human nature and human nature does not change. Original because to my knowledge, this is the first anthropomorphic tale about inheritance feuds.
This novel should appeal to all readers, young and old, male or female, irrespective of whether they like talking animals or not. For it is an Aesop's type of fable about transcendent and universal issues. It is a tale of greed, ambition, treachery and coming of age. There is a heating pot of myriad conflicting emotions: of love and hate; of sacrifice and selfishness; of loyalty and betrayals: of pride and prejudice; of sharing and domination, and so much more.
 (Continued on next slide)
But, above all, the central theme is of tolerance and governance , encapsulated in this quote:
"Being queen is about more than fighting battles. Violence should only ever be a last resort. Violence is not our way. Reigning over a kingdom is about building relationships, friendships. It's about knowing every inch of the kingdom, to know where dangers lurk, to know where to shelter from harm, to understand the needs of others."
The author underpins the togetherness, team-building and team-work, when the different species unite to reclaim the kingdom. The story reminds me of the Catholic King James II who was betrayed by his beloved daughter, wife of the conniving William of Orange. They plotted with the English parliament to steal the King's throne. It's a pity parliament did not have the integrity of the swamp hens, ducks, crows and turtles. This served to perpetrate the entrenched religious sectarianism and the English mistreatment of the Irish.
The characters are interesting: Hugh the aging pacifist whose mantra is,"smarter not stronger"; the considerate and aptly named Serena (a probable reference to the character in E.B White's novel, the Trumpet of the Swan); the vain and ambitious Isis who has to be careful what she wishes for; the belligerent, usurping Hannibal; the naïve but well-intentioned Prince who does not yet have his wings. Will he ever earn them?
(Continued on the next slide)
There is good character development: Isis' plight heightens the emotional dimension of the narrative. We also get to understand the reason for Hannibal's arrogant bullying, and we can feel some sympathy for his excesses when he goes about setting his own rules.
The prose is lyrical, the rhythm melodic, the descriptions vivid and colourful as the author draws from her real-life experiences. The charming, graceful style of the novel reminds me of the Disneyesque animated movie "The Swan Princess" based on Tchiakovsky's "Swan Lake."
All in all, an enjoyable read. I recommend.
David P Busuttil MDH, Senior Lecturer Pathology, University of Malta
I found Swan Song to be well written, entertaining and educational. Swan Song is a book that when you start reading you find it hard to put down. Swan Song had humour, happiness and sadness. I can imagine myself sitting on the bank watching the events unfolding right in front of my eyes. Lynn has done an incredible job with Swan Song.
Alisha
Watch Two Interviews with the Author
As promised, the author has donated 10% of all Royalties from book sales up to New Year's Day 2023 to World Animal Day.
From January 1st, 2023, 10% of the royalties have been donated to the Campaign to Ban Trophy Hunting.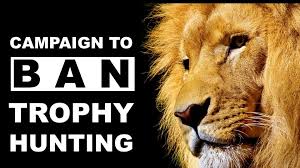 Additional Credits
Original Songs – Music composed, produced and arranged by Mauritz Lotz. Lyrics by Kreesan
Video Production – Tyson Colman
Book Cover and Interior Design – Sherwell Graphics
Website – Sue Lake-Harris